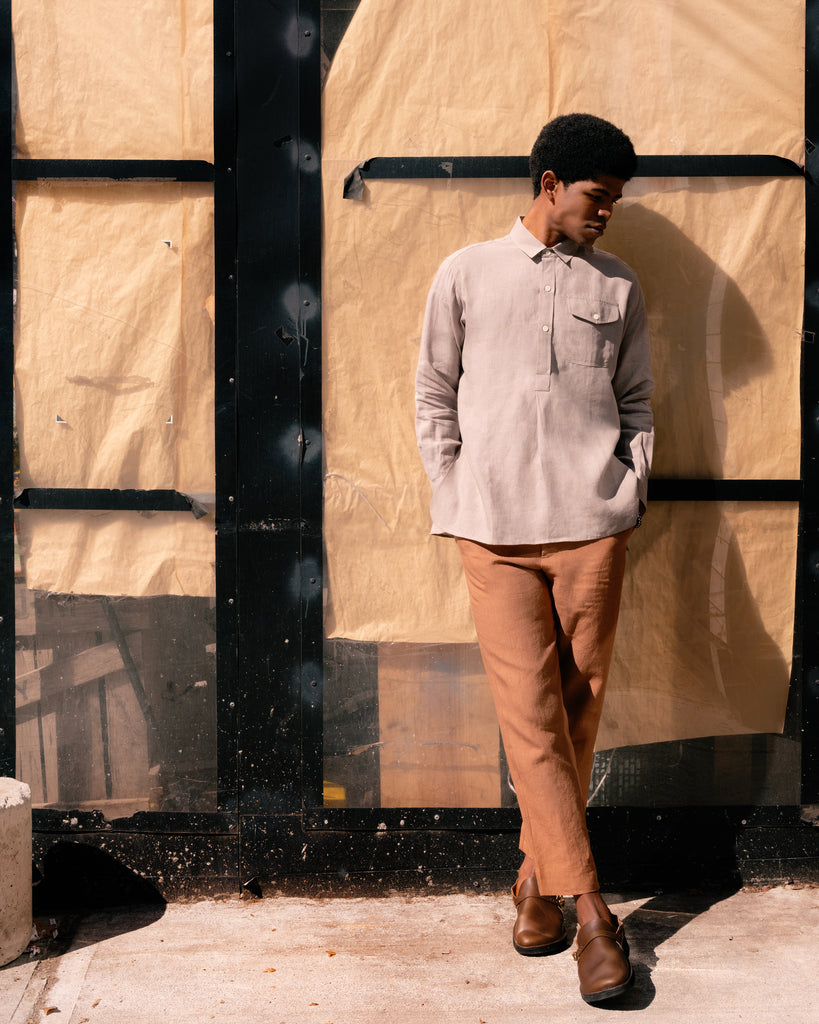 We enter our spring/summer 2023 season as well as our seventh (!!!) year of Blluemade with enthusiasm and reflection. This year brings a few major changes, as well as a fixed insistence on the things that feel intrinsic to our line. We remain doggedly committed to quality natural fabrics. Those who have been following us from the start already know that the pursuit of gorgeous linen is our founding principle, and local production our modus operandi.
Over the years that pursuit of beautiful, unique natural fabrics has led us to Belgium, Japan, and Italy. The heritage trade of Belgian linen, fine Italian cottons, and the investment in European shirting materials are an endless source of inspiration to us. In Japan, we found a combination of local historic knowhow in mills with kimono-fabric origins, as well as others which invested in machinery countries like the US were offloading as domestic textile manufacturing  diminished.
We still primarily work with the same woman-run, family-owned factory in New York's historic garment district that has been making our clothes since summer 2016. In the seven years we've worked together, a friendship has developed over challenges like combating political pressures to excise manufacturing from Manhattan, illness, family challenges and celebrations, COVID lockdowns and supply chain pressures, and all the normal ups and downs of life in New York City. Through good times and bad, we have been grateful for the strength of these relationships and the trust and communication we have built which have allowed us to navigate it all together. 
We have not been unaffected by the increased pressures to the global economy over the past few years. In fact, as a fashion brand using overseas fabrics we have seen firsthand the impact of the price increases in shipping and raw goods. None of our partner companies have been unaffected--our manufacturers and fabric mills all made the largest price increases we've seen in our experience, due to unavoidable price increases to their overhead. We've pushed off a price increase to our garments for years, perhaps much longer than we should have, but in order to continue to operate at the same standard we have raised our prices for the first time in five years. It was that or shift towards lesser fabrics and offshore manufacturing, and to us, either one of those would have been a move to turn Blluemade into a different kind of company, one that we would have had no interest in running.
There are plenty of fashion brands out there, more perhaps than there have ever been before. There are many who, as they grew, moved away from NYC production to markets that could handle larger quantities. There are many who embraced lesser qualities of fabric in search of better prices. We started Blluemade because from a love and support for local manufacturing, and a desire for the best natural fabrics in the world. Nothing about that has changed for us; if anything, the experience we've gained over the past seven years and the changes we've seen industry-wide have made us even more committed to these tenets of our business. 
There are a million more things to say but I'm going to curb myself here for now. Perhaps this blog will get more attention this year. Perhaps this will be the only post I make in 2023. No promises in that regard... only a promise to continue to make as beautiful a product as we can, and to continue learning and evolving our approach in an ever-changing world. Thanks for reading, and for all your support.
- Lilly & Alex