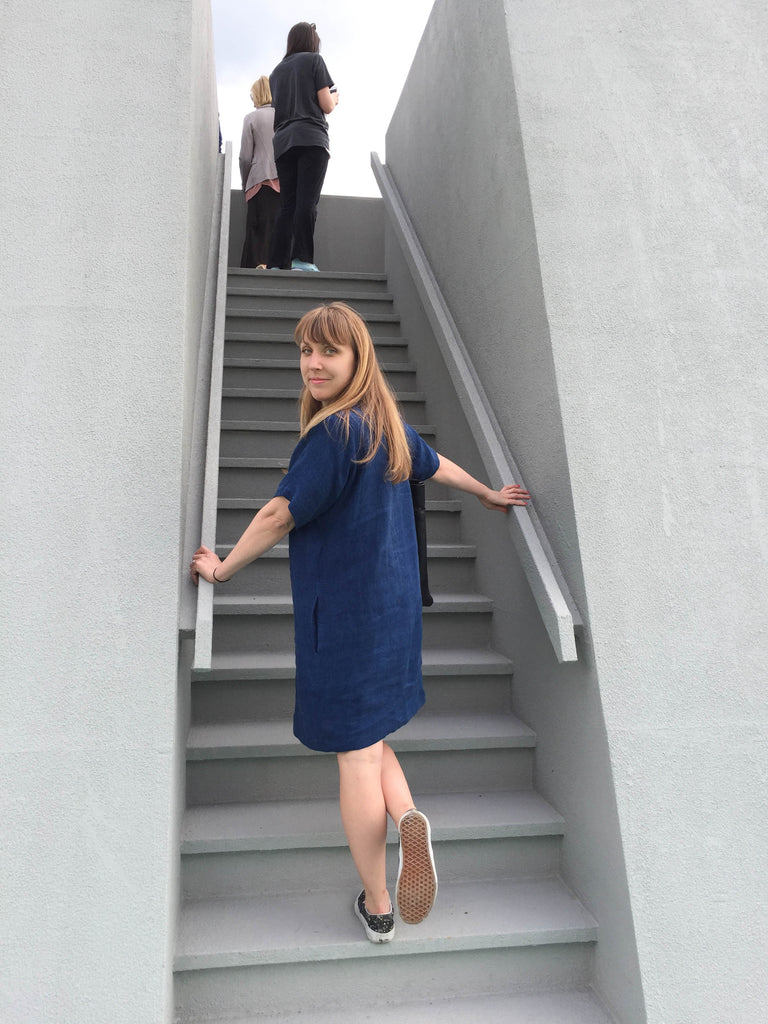 Our friend Colleen Hill is a curator at the Fashion Institute of Technology and has a vast knowledge of designers and trends throughout the centuries. Her eye for fashion is incredible (she's getting married in vintage this fall!) so we are incredibly thrilled for her support and interest in blluemade! Colleen recently wore her blluemade indigo dress on a trip to the Storm King Art Center, a large outdoor sculpture park in the Hudson Valley, an hour north of Manhattan. Her pictures have us dreaming of summer travels, and we love her effortless styling of her blluemade dress with vintage jewelry and Liberty-print Vans!
We caught up with Colleen to ask a few questions about her work and her style; read below to learn more about Colleen!
name:
--Colleen Hill
occupation:
--fashion curator and author
location:
--New York, NY
currently listening to:
--"Songs for Crow" by Red Kite
your style:
--Anything from quirky vintage clothing (usually from the 1960s and 1970s) to minimalist, contemporary styles that I can wear with statement shoes. It all depends on my mood, and sometimes my curatorial work. It's hard not to be influenced by a topic or a time period when you're immersed in its imagery for hours each day!
what do you look for in clothing?
--I rarely buy clothing new—so if I do, I want to know it was made well and that it'll be something that I can wear for years.
go-to outfit:
--For work, I often stick to black dresses with bold accessories, but I already know that I will be wearing by blluemade Indigo dress every weekend this summer!
When did you know you wanted to be a fashion curator?
--I have a bachelor's degree in art and art history, but I have loved fashion since I was a child. I was 10 years old when I came across a book about 1960s fashion by Joel Lobenthal, called Radical Rags. I was obsessed—I started shopping at thrift stores for old clothes, and even made some of my own. Both of those things were considered really weird in the suburbs of Michigan where I grew up.
When I started exploring options for graduate school, I found a fashion studies program at FIT that is devoted to history, theory, and museum practice. One of my favorite art history professors, Estelle Lingo, also had a fashion design background. She understood my desire to study fashion history and encouraged me to apply to the program. While at FIT, I was lucky enough to meet Patricia Mears, a fashion historian and curator who encouraged me to come a curator as well. Once I began working, I also found a mentor in Valerie Steele. These incredibly intelligent and generous women have all shaped my path. 
What is a day like in the life of a fashion curator?
--Every day is really different, which is something I love about my work. In addition to coming up with exhibition topics, I do research, write books and articles, request object loans, help to maintain and add to my museum's permanent collection of objects, attend exhibition production meetings, give tours of exhibitions, and provide interviews on fashion history for the media. I'm currently researching images and writing for a book about 1960s French fashion, which will coincide with an exhibition that will open in early 2017.
what's your next trip?
--I will be getting married in Savannah, GA this summer. For my wedding I'm wearing a 1960s dress and purple Miu Miu heels.
links:
Shop Colleen's blluemade indigo dress
here
.