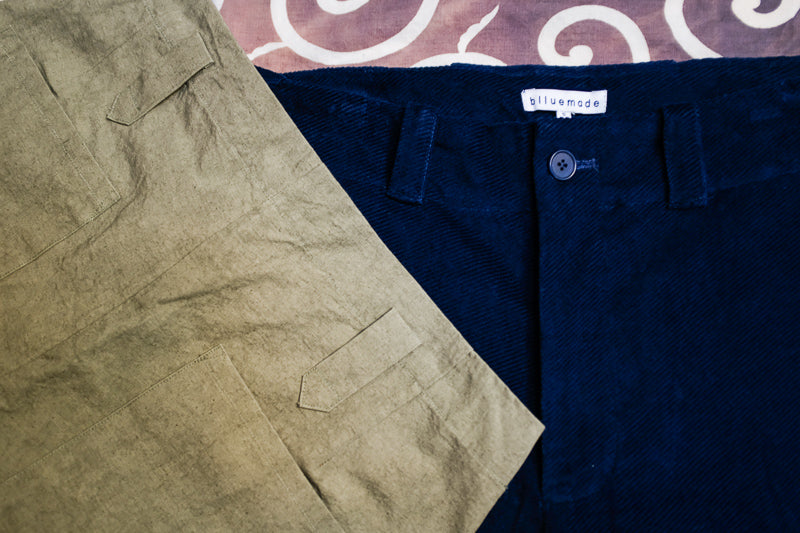 A number of you have been asking for more details on our fall fabrics, which makes a lot of sense to us, to the point where we asked ourselves, why haven't we done this already? As a fabric-forward brand, an up-close look at the fabrics we carefully chose for the season is a wonderful way to get an introduction to the styles, some of which are new, others are old favorites that read very differently in a new fabric. 
Our baseball pant, for example, is a new style we're very excited about. 
Here are the close-up details in the indigo corduroy. The richness of the color really makes the details pop. The cut and exaggerated belt loops are inspired by 1940s baseball pants, which we altered to have a more modern, tapered leg. The belt loops look fantastic with a skinny-to-medium-sized belt, but also are fantastic on their own. 
Here's the baseball pant in indigo. I'm wearing it in a size small (29" waist), which I prefer in this cut, though I'll show you the extra-small as well. As with all our pant styles, for women we recommend sizing down for a slim fit, higher-waist, and a slight crop, or sizing up or taking your normal size for a looser, trouser look, which I've come to prefer personally. 
I cannot say enough good things about this indigo corduroy--there's a reason we used it so much this season, we're obsessed! It's soft, warm, has a good weight that allows it to stand away from the body a bit while having a nice drape... and it's got a really unique diagonal twill-like weave. More on that later!
Here is the baseball pant in the mustard Japanese canvas, also a favorite! And the brighter color helps you see the silhouette a bit better! Here I'm wearing it in the extra-small (26" waist).  As foretold, it's more cropped (I'm 5'8", for reference), but still comfortable, and nice and slim. Customers have thanked us for making pants that make their butt look good to which we respond, you're the one who looks good--thanks for making our pants look so great! 
Note also our new long-sleeved tee! I love a smock shirt but was ready for something a bit more tailored. I'm wearing the silk-linen in the extra-small (in the previous image set I'm wearing the white flannel tee in small). 
Speaking of great-looking pants, let's take an up-close look at our sailor pant, which we've reimagined in Japanese canvas in artichoke and indigo corduroy this season. 
You may remember the sailor pant from our spring 19 collection where we made it in two linen colors. The linen gave the drape more movement and looseness. In cotton canvas and indigo, the full leg stands a bit more apart from the skin, while the stiffer fabric further accentuates the nipped waist. The waist is "Hollywood style," for all you tailoring-nerds out there. The dropped pointed belt loops are a nod to vintage Japanese uniform pants, as noted in some nice press we received in the spring from Heddels. 
Here's the pant in artichoke canvas. I'm wearing it in small (because of the nipped waist, we recommend normal size for women and possibly a size up for men, depending on your measurements). You can see the fuller leg that is so flattering when coupled with the slim-cut waist, as well as the drape of the canvas. I'm a huge fan of the Japanese canvas we use for fall. The fabric is lightweight but strong and warm--the tight weave, called "typewriter cloth" in Japan, prevents drafty-feelings and is so hard-wearing. I love the look of workwear canvases, but find the rough fabric is too harsh on my skin. This sophisticated canvas, on the other hand, feels amazing on. And, as you can see in the up-close images, it has incredible natural variations in tone and texture. But more on that later! 
Sadly, I neglected to take pictures wearing the double-pleat pant which is crazy to me because I wear these ALL the time! We did this style in linen for spring, and I can honestly say it is one of my favorite pants. It's a vintage-style cut (note the Hollywood waist), with two outward-turned pleats and a fuller thigh for that classic look. I find these pants so comfortable and flattering, especially in the white flannel! The flannel is crisp, warm, and oh-so soft. The gray wool-linen (or linsey-woolsey as the cowboys used to call it) is more refined. I'll try to get some shots for instagram one day, although as you can see, selfies are not my strong suit. 
Moving on, let's talk outerwear!
Remember that canvas we told you about? We made not one but TWO new outerwear styles to show it off, and a few of they make MATCHING SETS (my new favorite). 
First off, the trenchcoat. I've always had a thing for the classic silhouette of a trenchcoat: long, tailored, with a cinched waist and a collar that flips up, there's just something so iconic about a good trench. It makes me think of 50s film stars striding purposefully; it's the coat for people with somewhere to go. But what's always bothered me about trenchcoats is how heavy the fabrics are, which slows down that purposeful stride! Rendered in our lightweight canvas, this piece keeps the wind off without slowing you down. 
Let's get an up-close look...
Get a look at that! Up close you can see the subtle marbling effect of the fabric, as well as the beautiful slub that comes from the addition of linen and ramie to this tight canvas weave. Flat corozo nut buttons keep the look smooth, and the belt loops have two height options for a more customized fit! There are deep pockets for holding your keys, bananas, and clues...
What did I tell ya? A trenchcoat is ICONIC.
Speaking of classic outerwear, we've always been in love with a French chore coat. The four-pocket wrap-around silhouette, easy length, and slim lines have made the chore coat a classic. There are so many beautiful examples out there. We love vintage, and many of the classic manufacturers still make blue cotton versions today! With that in mind, we knew we wanted ours to bring something special to the genre. In the Japanese cotton slub canvas in artichoke and deep navy, this iconic piece gets a subtly modern update. The fine stitchwork and skills of our NYC factory make this a modern heirloom--something to wear and pass down as a well-loved piece for future generations, just like our original inspiration.
Pre-orders have closed on our Belgian tweed car coat, but let's take a look at it anyway! Once in a while we come across a fabric that haunts our dreams... this Belgian wool-linen tweed has been on our minds for years, and I think you can see why! The gorgeous colors, soft hand, warm weight, and the flecks! We're obsessed. We have to admit we were nervous going into heavy outerwear. After all, our bread-and-butter has been shirting and separates, so a wool coat felt like new territory. We surprised ourselves on this one, and the feedback has been incredible! We are so excited for the lucky people who ordered this coat and will have more outerwear on the mind for future seasons, so watch this space!
Every season it's a guarantee you'll see a new fabrication of jacket-shirt from us! If there's an iconic Blluemade style, this is it! The jacket shirt is something that came to us as if in a dream, and we haven't stopped wearing them since. This fall's versions are that beautiful indigo corduroy (have I mentioned we dyed the nut buttons to match?) and khaki linsey-woolsey. This piece layers SO beautifully. In the linsey-woolsey it's got a softer drape and hugs the body a bit more. In the corduroy, it stands away, giving a little extra drama. The indigo corduroy jacket shirt becomes a matching set with our sailor and baseball pants this season. Honestly next to a jumpsuit, a matching set is the ultimate in no-brainer dressing, which we could all use a little more of these days.
Speaking of jumpsuits! We just HAD to make our classic coverall style in the indigo corduroy, and we are incredibly happy we did. SO comfortably, SO easy to wear, and the PERFECT weight for fall... this superlative piece hits all the right marks with us. 
Our dresses this season give the feeling of wearing a nightgown without the I-slept-in-this-dishevelment! Our shirred French dress appears in our custom bandana print by artist Tomo Adachi, printed this season on a Japanese cotton. We've also made this dress in the soft Japanese cotton flannel that we've come to love so much! Neither of us had worn flannel since our hipster early-20s in Chicago (that was a while ago... and a lot of plaid)... the plaid look grew tiresome, particularly with all the bad, cheaply made versions out there. But a solid flannel... oh my... so soft, a little crunchy in feel but sophisticated in color and appearance... this is a flannel we can get behind!
As you can see, we liked this flannel so much we did multiple shirt styles in it this season! Tees and pullovers and button-ups, oh my! In the pictures above, I'm wearing the monk pullover in extra-small for a more tailored neckline and the long-sleeved button up (in our new, longer fit!) in small for a more classic, unisex look.
If you made it through this whole thing, thank you for taking the time to read! If there are any questions you didn't see answered, please feel free to reach out! 
Want to get your hands on these pieces? Head to our online shop! If we're sold out of something, please shoot us an email at info@blluemade.com and we'll connect you to a store we work with that may still have it in stock.