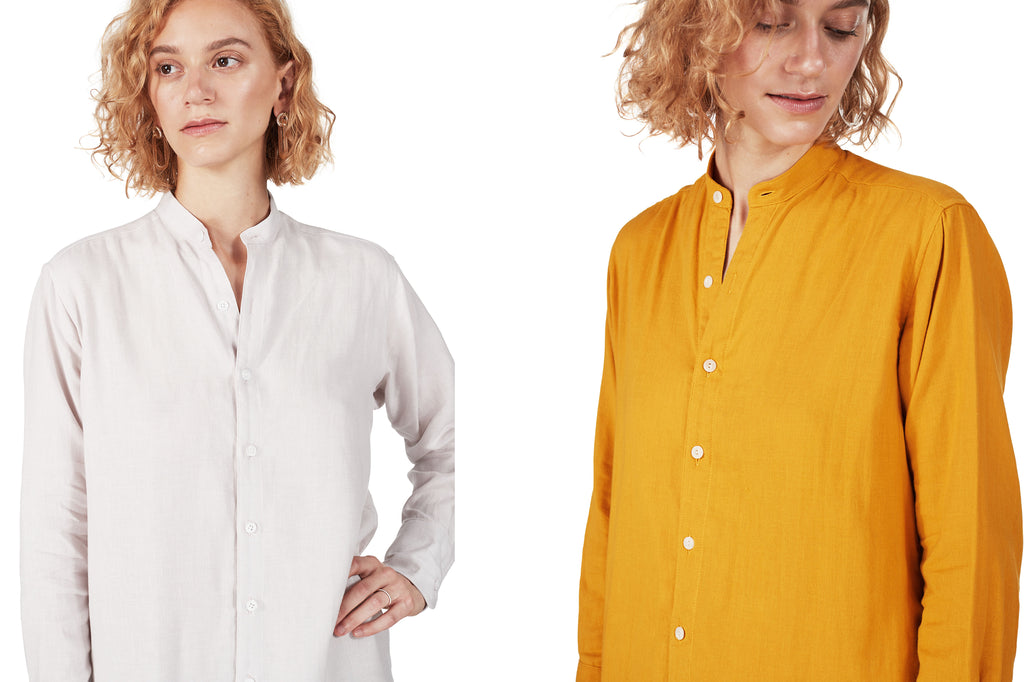 Blluemade SS19 from Jonathan Bouknight on Vimeo.
Before spring ends and we transition to fall, we wanted to celebrate our spring collection and the dancers we featured. The resulting images and video made this collection very special for us. We reached out to Breckyn Drescher, the female dancer who modeled for us for SS19, to find out more about her dance background and what she's up to next.
 Where are you from?
-- I'm from Phoenix, AZ and I moved to NY in 2011 to attend the Conservatory of Dance at Purchase College.
How did you get into dance?
-- My mom was a gymnastics and tap instructor so I was basically born in a dance studio.
What were your initial interests in dance and movement, and how have these evolved over time?
-- My initial interests were in ballet and more codified forms. I was drawn to the athleticism and sense of accomplishment it brought to me as a child, as well as the costumes and creativity. As I've grown I've moved into softer approaches in regards to what I ask my body to do and I've become more interested in possibilities and boundary pushing in a choreographic sense. Conceptual work is extremely important to me. I love to watch or be a part of something intellectually or emotionally stimulating rather than an entertainment spectacle. 
What are some performances/pieces you've been in that you loved?
-- I curated, choreographed, and danced in a show in collaboration with my wife and our friends at the Fleurotica flower shop pop-up earlier this year. I was going for a very DIY you're In your grandmas living room dancing for your family and stuffed animals but we're actually in a chic modern West Village flower shop vibe. It was such a joyous experience! My other favorite projects I've worked on were Netta Yerushlamy's "Pictograms", and excerpts of Merce Cunningham's "Scenario" (Comme des Garcons and Kosugi collab) and "Travelogue" (Rauschenberg and Cage collab).  I also really love the live performance collaboration runway/dance shows I've done with Beth Gill/Mara Hoffman and Tenaya Kheller/Lauren Manoogian.
What do you look for in clothing? 
-- In regard to clothes, I look for comfort. I prefer natural fibers that don't smell bad since I'm sweating in class and rehearsal (or just running around NYC). Most of my clothes are second hand cotton tee's, but I try to support my friends work because a lot of them are starting their own brands or just making things by hand. 
What have you done for yourself lately? 
-- Something nice I did for myself recently is sign up for therapy! It took me a long time to get an intake appointment and an even longer time to come to terms with the fact that I should go and gain the confidence to reach out in the first place. Dancing/choreographing is therapeutic in many ways but I sometimes use it as a way to avoid really working on or taking responsibility for my self in other ways.
What's a favorite recent trip you've taken?
-- I went to Marseille in the South of France for the first time ever and had a dreamy holiday!  The water was shades of blue I've never seen before and the people were so friendly.
What's coming up? (travel, work, etc.)
-- I'm actually at a residency in Michigan right now called Crojkscroft. We're making a site specific dance film outdoors and teaching kids at a local studio. 
I'm also heading back to Paris in September for Fashion week. Other than that I have a lot of little and a few bigger projects that I'm working on all the time with different choreographers and designers. Freelance life allows me this kind of freedom to work and travel and I love it!
Featuring SS19 throughout, shot and filmed by Jonathan Bouknight. Personal photos provided by Breckyn Drescher.