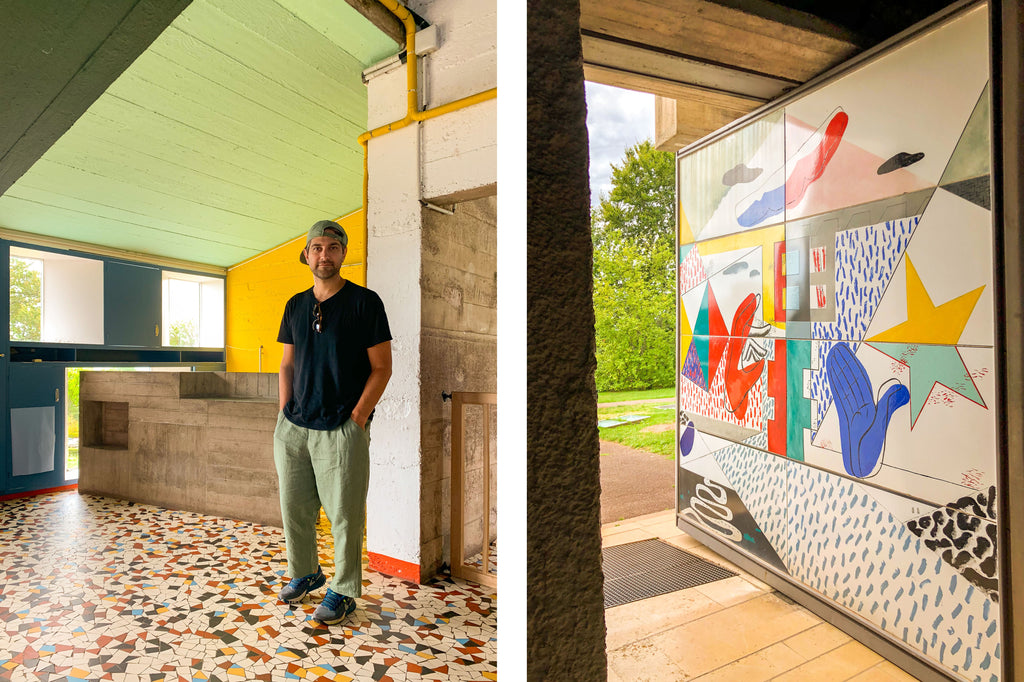 Cover Image: Wearing the single pleat pant and linen cap in olive linen (aka Sussie and Carl) at Ronchamp.
At Le Corbusier's Ronchamp Chapel in Ronchamp, France.
Carl the cap is frequently borrowed.
Saint Benedict Chapel by Peter Zumthor
Vrin, Switzerland
A birthday party in Vrin.
A restful stop at Lake Como, Italy, featuring our olive linen cap and short-sleeved linen button up in navy.
Scarpa's Banco Popolare di Verona.
Olivetti Showroom and a view of the Peggy Guggenheim Collection, Venice. Brent is wearing the single-pleat pant in olive and short-sleeved button up in indigo linen.
Scarpa's Querini Stampalia.
 Enjoying the canals of Venice. Brent is wearing the indigo linen short-sleeved shirt and single-pleat pants in olive. 
Brent is wearing the short-sleeved linen shirt in navy and Kate is wearing the drop-sleeved monk shirt in terracotta (SS18).
Brent is wearing the single-pleat short in sand linen and short-sleeved button up in indigo linen at Scarpa's Castelvecchio.
Brent Buck is an architect who truly designs homes people want to live in. Brent has an incredible eye for detail and materials, and as an architect couples innovative design approaches to a respect and knowledge of history. His spaces have a great sensitivity and appeal and as homes are marked by the taste and perspective of their occupants. We often describe our work in similar terms; our clothes are designed to be worn by their wearers, not the other way around. Made of natural fibers with a long history of apparel, they are brought to life by use and become more beautiful with wear. Perhaps this is why we find such affinity to Brent's work, and delight in seeing him wear ours!
When we heard he and his family were traveling to Europe on a tour of architecture, we knew we had to get the details. Read below to learn where they went and what they saw, and start planning your own future trip accordingly.
-----
Kate, Anna, and myself – we're not really vacation people. When we leave our home we like to really travel, to take trips. I think this all started one "vacation" where we tried to be still…didn't work well. This summer we decided to take an impromptu trip to look at the architectural works of Le Corbusier, Gion Caminada, Peter Zumthor, and Carlo Scarpa. These architects have mastered the themes we are finding in our work – how to work within old cities and buildings while trying to not remake history but add to it. The trip was last minute so we packed our camping gear, having only booked our first night in Zurich and our the last evening in Milan. We pack light – something our Blluemade garments helped with!
Part 1: Le Corbusier
After landing in Zurich, we dropped our bags and walked to the Pavilion Le Corbusier. I couldn't sleep, so I snuck out, grabbed whatever beer I could find, and wandered the empty streets in flip flops and my Blluemade green pants! For the sake of the rest of this – lets call my Blluemade cap Carl and my green linen pants Sussie. I'm very much a person of habit and when I find something I like…well, it gets worn. On this trip my Carl and Sussie – they got a workout! The following day we drove to France to see Ronchamp Chapel, a masterwork of architecture by Le Corbusier. Onward.
On our way back we took a quick detour into Germany to see the Vitra Campus before spending the evening in Basel. From Basel we headed into the Swiss Alps, eventually finding our way to the small Saint Benedict Chapel designed by Peter Zumthor. Carl and Sussie got a little wet (as we all did!). Anna very much appreciated the syrup station where, after donating a little, we mixed fresh mountain water with a variety of flavored syrups. Truthfully, we have no idea if this is what you are supposed to do – but that's what we did. 
Part 2: Gion Caminada
We spent the evening in a Gion Caminada-designed hotel in Valendas, Switzerland. When we arrived, however, the hotel was apparently closed. After walking around town, speaking to locals, we found the owner who then let us in and who made us an amazing breakfast. That evening we drove and ate traditional Swiss food, capuns, which is a specialty of Western Graubünden. Onward.
Magic appeared. We headed to Vrin, a very small town that is home to works by Gion Caminada. As we stood in front of one of his house designs a girl, aged four, came out, grabbed Anna's (who's three) hand – nearly picked her up and dragged her to the yard. Before long her mother came out. Turns out, we were invited in and had a nice time speaking with the family in the Caminada House. We found out the house belongs to the architect's cousin, whom we were speaking with. This opened a few doors for us…Onward. There are only a few children in Vrin, it happened to be the little one's birthday – and her mother said having Anna around was the best birthday present possible.
Part 3: Peter Zumthor
We headed to Vals – an architectural pilgrimage site for the natural spring baths located there designed by Peter Zumthor. The baths don't allow photography or children…so Kate and I took turns. That evening we stayed at another Gion Caminada-designed hotel and yup, ate more CAPUNS! Onward. Before heading out of town the following day we paid a visit to Peter Zumthor's own home, which is now rent-able guest house, along with other structures the architect has designed.  Onward.
The next day we headed to Lake Como, took some work calls along the winding narrow streets, and watched as Anna learned to drive a boat on Lake Como. Let's skip this part – as the 16 hours we spent at our hotel were…relaxing. Carl and Sussie, well – I think they're from Como. Or at least moved there at an early age.
Part 4: Carlo Scarpa
We woke up early and set our course to Verona to see Carlo Scarpa's Castelvecchio and Banca Popolare di Verona. If the focus of our trip was to explore a new approach to historic buildings, Castelvecchio was the thesis.  Impossible to understand the whole from afar, this highly detailed project has inspired many architects. Stairs, details, ways to display art…you see lessor architect all over the world trying to achieve the details of this work. Grabbing pizza to go (we're American travelers) – we headed to Venice that afternoon. Along the way we hit up another Scarpa masterpiece – Tomba Brion. We arrived late in Venice, grabbed dinner, and fell asleep.
Venice receives approximately twenty million tourists a year. The city is roughly three square miles. Sixty thousand people a day flood the area between Piazza St. Marco and the Rialto Bridge. It quickly became apparent our time here was about finding calm and what little sliver of Venice is left. Green linen pants…they fit a map of the city with ease! Olivetti, The Biennale, and Fondazione Querini Stampalia – all Scarpa works – and all void of the hordes of folks no more than ten yards away. I guess we had odd interests…yeah, head to the Peggy Guggenheim Collection for a nice breakfast…
Our trip felt longer than 10 days. Arriving home we felt refreshed, inspired, and ready to tackle whatever comes next. We washed our Blluemade – put them back on…and look forward to watching them continue to break in over the balance of the summer and fall!
-- Brent Buck
-----
https://brentbuckarchitects.com/
https://www.instagram.com/brentabuck/
Brent is wearing throughout: our single-pleat pants in olive, linen cap in olive, short-sleeved linen shirt in navy and indigo, and single-pleat shorts in sand. Kate is wearing our drop-sleeved monk shirt in terracotta, available this season in toast and oatmeal. 
All photos by Brent Buck and Kate Barthmaier.