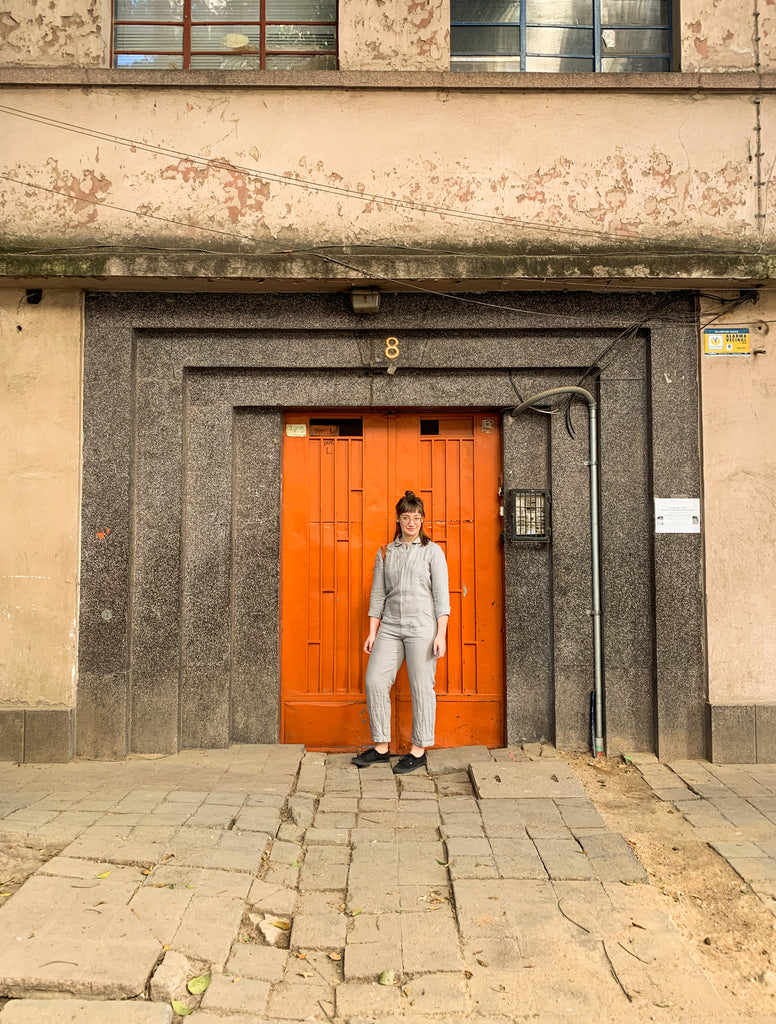 Cover image: the deco doorway in Roma Norte.
Standing outside the historic and incredible Catedral Metropolitana de la Asunción de la Santísima Virgen María a los cielos at Zocalo. Wearing a Blluemade SS18 Hawaiian tie-front linen shirt. 
Nice puppers hanging in the shade at Las Piramides.
Piramide del Sol. Wearing a Blluemade jumpsuit.
Stairs at Piramide del Sol.
Courtyard of Palacio de Quetzalpapálotl, Teotihuacán.
Mural of a big cat, Teotihuacán.
¡Que linda! Wearing the Blluemade SS18 French dress in poppy linen.
Floor tiles in a shop in Centro Histórico.
More floor tiles in a shop in Centro Histórico.
Staying cool in the outdoors in the Blluemade jumpsuit. 
Pyramid inside of the courtyard at Casa Azul.
Wavy doorway in Centro Histórico. Wearing the Blluemade AW18 tie-front shirt. 
Papier Mache skeleton alcove in Casa Azul.
Bathroom tiles in Casa Azul.
Had a great day. ¡Listo para Lardo!
Our guide: Hannah Bigeleisen
Hannah's husband, Steven Bukowski, on a walk to to La Cuidadela. Wearing the Blluemade AW18 jacket shirt. 
Overlooking Plaza de la República with Monumento a la Revolución to the left.
-----
Hannah Bigeleisen is an artist and designer whose collaborations with her husband Steven Bukowski have garnered serious attention from the design world over the past few years. We at Blluemade love a husband-and-wife design duo for obvious reasons (!) and have been consistently blown away by Hannah and Steven's work both together and independently. We were thrilled to bring Hannah's artwork into our AW19 lookbook (more on that in the coming months) and are always inspired by what they're doing, making, and looking at!
Hannah and Steven recently traveled to Mexico City, and wore many of their Blluemade pieces throughout! Mexico City has been on our to-hit list for many years, so we couldn't resist getting their itinerary and thought it was too good to keep to ourselves! Read on for Hannah's travel diary to find out more about some of the historic and design sites they visited and where to find the best mezcal cocktails!
-----
Steven and I had not be on vacation for over three years (!) but always talking about traveling. We decided on Mexico City spontaneously. He mentioned it one night, and the next day we were buying tickets. It was a very surprising and dreamy visit.
On our first night there, we got into our first Airbnb, a Luis Barragan converted artist loft building built in the 1940s. It was in Cuauhtémoc, the cultural and historic district in CDMX, which has many museums and cultural sites. We went for dinner at Contramar at the recommendation of some of our friends and the most delish tuna tostados, scallop and shrimp aguachile, and so much more! We were in heaven!!!
The next day we went to the pyramids, Teotihuacan, and climbed both the Pyramid of the Sun and the Pyramid of the Moon. We toured the remaining ruins, saw the murals--it was surreal to be transported back to a civilization and ruins so ancient, yet so advanced. My Blluemade jumpsuit kept me shaded and cool all day long! I was so happy to wear it! We then went to Lardo, a Mediterranean style restaurant and had one of the best, simplest, refreshing cocktails (local mezcal, tonic, slice of cucumber & lemon) and a delicious dinner from their wood fired oven. We had pastries by Rosetta twice that day, the guava pastry even came to the ruins with us for a quick snack!
Our second day, we went to Frida Kahlo's studio and museum. We walked around Cuauhtémoc in the morning, and I wore my Blluemade red linen French dress. Kahlo's museum was such a magical experience, to be drenched in that amount of light, lush gardens and foliage, and that vibrant, eye-ball bending blue. The effect of being surrounded by colors and light, drenching the courtyards, the sculptures, being about to move freely in another artist's making space was such an incredible experience. Very dreamy. Very inspiring.
After we were done at Casa Azul, we went to Taller Experimental de Ceramica, which is a local ceramics studio where people can rent space and/or take classes. It is mostly outdoors, which must be a wonderful way to work in any studio! There were some cute little doggies running around too!
Our last night we spent an Airbnb in the Reforma neighborhood, which is near Zocalo. I wore my black linen-wool blend shirt by Blluemade and checked palazzo pants for dinner that night at a roof-top bar we spotted from the balcony of our Airbnb.
Our last day we walked around Zocalo and the local markets, and I wore my Blluemade blue linen tie-front shirt with jeans. Blluemade kept me cool and comfortable the entire trip and packs down so small, and wrinkles weren't a problem when I unpacked. I'll definitely bring these pieces on future trips!
---
Hannah's Mexico City Guide:
See:
Cuauhtémoc neighborhood
Teotihuacan pyramids
Frida Kahlo's studio and museum
Taller Experimental de Ceramica
Eat:
Wear: 
A Blluemade jumpsuit! Available this season in poppy red linen and charcoal Japanese cotton.
The Blluemade French dress--updated this season with a longer fit and new shirring details, and available in shell linen, and double-cloth Japanese gauze in navy and turmeric.
A tie-front shirt that pairs perfectly with jeans and breezy palazzo pants. We've got two styles this seaons: a long-sleeve collarless version that's the same cut as the black linen-wool and a short-sleeved Hawaiian shirt style! The long-sleeved tie-front is available in shell linen, sky blue linen, and vanilla double-cloth Japanese gauze. The short-sleeved tie-front shirt is available in yolk linen, glacial pink linen, and shell linen.
Also featured throughout: the Blluemade linen cap! Available this season in olive green linen, "denim" linen, and cornflower blue.