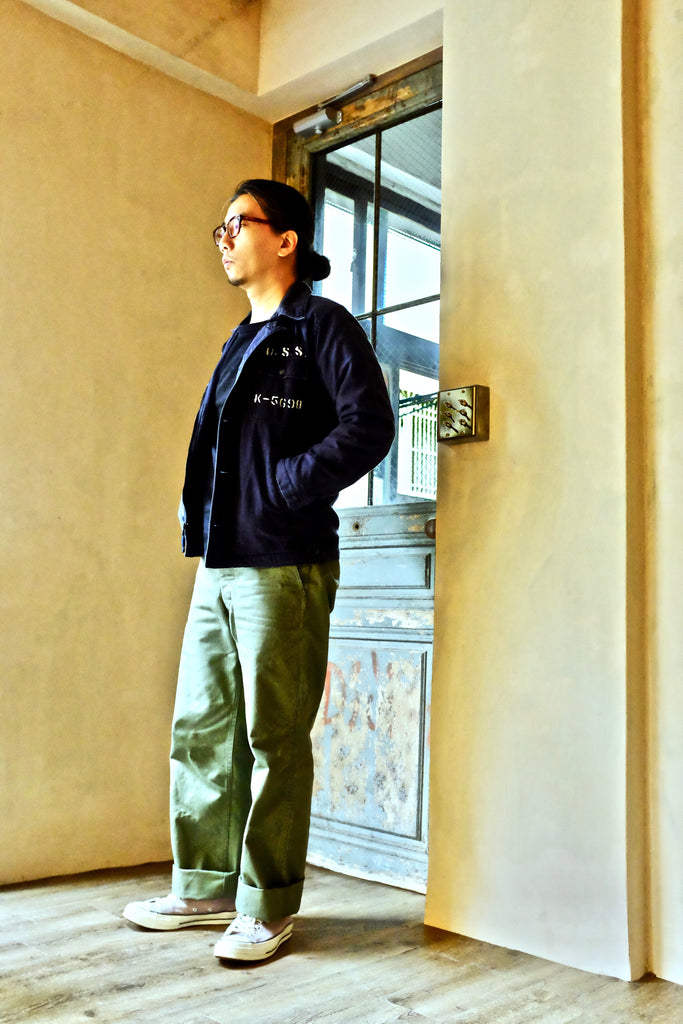 Kurt Chen of
Faith Co.
is a person we were lucky to meet in our travels. We had been longtime admirers of his work from afar after discovering it on
Heddels
. Kurt is a talented leatherworker whose products range from gorgeous thick leather bags he describes as the "motorcyclist version of a Birkin," to clothes, accessories, and clever little items like the
leather-wrapped measuring tape
we recently added to our online store! 
I (Lilly's) have family in Taiwan so whenever we go back to visit we also stop at Kurt's shop. Kurt's shop, Faith Co., has until recently been tucked into a little alley, under a Taiwanese whiskey bar. It was something you had to search out, not stumble upon. The first time we tried to find it, we walked by it several times before we realized it was right under our noses, so to speak. Once inside, however, we were immediately charmed by the atmosphere of the small shop. The tables are strewn with hand-stitched pieces Kurt makes himself, ranging from camera straps, belts, coin pouches, and leather-wrapped notebooks, all obviously made with great care and intent. The walls are lined with military and naval inspired clothing, many by designers Kurt is friends with. The real showstopper, however, are the bags he makes. Duffle bags made with custom heavy-weight selvedge canvas he has made in Taiwan, a heavy-duty tote bag he calls "the motorcyclist's Birkin bag," and many other pieces tthat are enticingly heavy-duty and well-made.
Alex coveted the Birkin bag for many years before finally getting one for himself. Over the years, we have become proud owners of several Faith Co. pieces. My personal favorite is the leather-wrapped measuring tape for it's compactness and playful design. 
To celebrate the addition of this piece to our store, we interviewed Kurt about his work, his neighborhood in Taipei, and what drives him to design. Read below to learn more!
name:
--Kurt Chen
location:
--I was born and raised in Taipei, where I currently live and work.
What inspired you to start doing leatherwork? When do you open your store?:
--The reason I started to make leather goods was, after buying and using quite a lot of leather goods, I found that it was always difficult for me to find a leather product that I was satisfied with, so I started to try to make my own leather goods. I opened my store in 2003.
You just moved locations--please tell us about your new space.
--At present, the new store functions as a studio, office and show room. The square footage is about the same size as the previous one, but we moved from the basement to the second floor. Now the space has sunlight and a breeze. This is quite important and comfortable for me. 
You are a man who wears many hats - designer, maker, shopkeep--please tell us about all your projects and how they work together.
--Whenever I need any product in my daily life, I will try my best to find it. When I can't find a satisfactory product, I will think about how to create it. (I also think about how to make) improvements to products that can be found on the market, whether in material or function and appearance. And I also run a store so I can't just design products according to my own preferences, but must also consider the lifestyles, preferences, and conditions that suit each country's environment. Therefore, this is part of my multi-identity in business, design and production.
I also learned that the appearance, function, material, and price of the product must meet the needs of people's lives in order to get a broad response, not just a gorgeous appearance. 
I think this is the main reason why I designed the product to be more practical than art.
Can you tell us about the contemporary design culture in Taiwan? In what ways do you think that American, Japanese, and Chinese culture are blended in Taiwan?
--Taiwan has experienced the rule of the Netherlands, Spain, Japan, and China for more than 100 years. Therefore, Taiwan's culture is naturally highly inclusive. We can easily absorb all kinds of beautiful cultures and integrate into our lives. During the World War II , because of the most exposure to American and Japanese culture, these had the greatest impact on Taiwanese (culture today).
(Taiwanese style is in come way a study of) American and Japanese styles of clothing, food, architecture, aesthetics. The design ideas of my personal enlightenment are also deeply influenced by American and Japanese culture. And the most obvious impact on Taiwan is the clothing industry and diet.
Would you tell us more about the inspiration behind the leather-wrapped tape measure?
--The leather tape measure was a spontaneous idea. I wrapped leather on a frequently-used tape measure and made it look more harmonious with my studio. 
I didn't expect it to be very popular. Most of the customers were like it very much.
 How would you describe your personal style and design inspirations?
--My personal style focuses on simple styling pieces that have high quality materials and details. I like to subtle details that are not easy to see with a quick glance. 
I also incorporate my own style into my design. The concept of design usually comes from the needs of my own life rather than popular trends. As with my style, I like the details to be subtle. With use, one discovers a new function or texture or detail. I like to give the customers a surprise after using my product for a while.
Please tell us about the neighborhood your studio and shop is in. How has it changed since you started working there?
--My store is currently located in the most concentrated area of Taipei's current apparel industry. In the past ten years, with the booming Internet shopping era, the habit of Chinese speculation, and the decline in the economy, the stores in this area have been eliminated quickly, which has also stimulated the decoration of the shops to constantly seek new changes. The overall number of stores has decreased slightly in recent years, but the quality of the store has continued to grow at a strong rate of change. So now I can see more good quality stores than few years ago.
Taiwan is such a wonderful city for food and we know you take finding good food very seriously. Can you tell us where and what kind of food you would want to eat:
After working late in the workshop.

For a special occasion like a birthday.

If you really want dumplings.
--The area I live in is called "Yonghe." It is the most densely populated city in the word (more densely populated than Mumbai, India). As a result, I can super easily find many delicious local foods at any time in the area where I live, such as many different kinds of dumplings. Although the English words are called "dumplings," there are hundreds of different kinds. Dumplings are just a small part of the local culinary scene. So I never worry about working too late to find food.
Regarding birthdays or important days, there are many very special restaurants in Taiwan. It is really difficult to give examples. But in Taipei, I highly recommend you go to "香色 xiang se"
This is a very comfortable and aesthetically pleasing and intimate restaurant.
links:
All pictures courtesy of Kurt Chen and Faith Co., Ltd. 
Shop the Blluemade Leather and Linen Sewer's Kit featuring Kurt's leather-wrapped measuring tape 
here
!