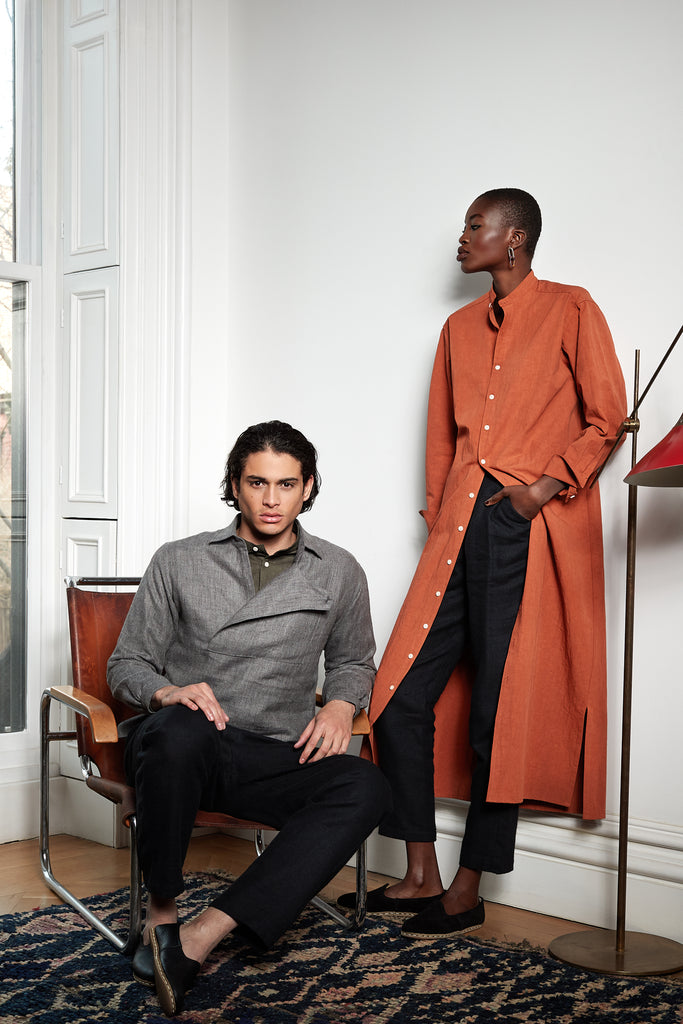 When we began designing our AW18 collection, we knew we wanted to create pieces that fulfilled our desire for hard-wearing, elevated, and easy-to-wear clothing, while remaining true to our values and emphasis on natural fabrics. Fall clothing should be about warmth and comfort, coziness mixed with a touch of elegance. The silhouettes should be easy to wear, great for layering, and, ideally, easily dressed up or down. We also wanted to represent the season with fabrics that looked and felt luxurious and special--there's an inherent drama and beauty to fall that we wanted to represent. Maybe it's because fall is our favorite season in New York, or maybe as the weather gets colder we want clothing that works harder, takes care of us more, and lifts our spirits. 
Our AW18 collection expands our repertoire with linen to include luxurious natural blends from all over the world. The family-run linen mill we work with in Belgium has created a beautiful linen-silk blend for us. This fabric, available in silver grey, has an ever-so-subtle sheen from the silk. The unique slub of linen is visible, but made more refined by the silk. It's unbelievably comfortable--the linen and silk combine to showcase the best properties of both. This shirting fabric is warm yet light, breathes beautifully, and is wonderful to wear year-round. As with all great linen, this fabric gets softer, stronger, and more interesting with time. 
Our monk-collar drop-sleeve shirt in silk-linen, in its unwashed state. This unique fabric necessitated buttons just as luxurious--mother-of-pearl buttons.
Our monk-collar drop-sleeve silk-linen shirt. On the left, an unwashed, new shirt. On the right, the fabric has developed after many wears. While we recommend dry cleaning for our silk-linen, this fabric can handle a hand-wash and line-dry approach using a high-quality linen wash like LeBlanc (see our fabric care guide at the bottom of our FAQ page).
Our monk-collar drop-sleeve shirt in silk-linen as seen on the lovely Maryse. 
Our search for suitable fall fabrics took us to Japan this season, where we sourced gorgeous, unexpected natural blend fabrics. We generally find cotton-linen blend fabrics a little disappointing (It's a bit of a "Where's the beef?," "Where's the linen?," situation). But when we found this cotton-ramie-linen blend from Japan, we were blown away by the distinctive appearance and feel of the fabric, as well as the beautiful texture and colorways.
The Japanese call this fabric a "typewriter cloth," as the density of the weave is similar to typewriter ribbon. This tightness of the weave is a good ward against wind and cold, yet the fabric is also light and very easy to wear. The fabric is also an unusual mix of cotton, linen, and ramie. Ramie is a bast fiber like linen, meaning the stem fibers of the plant are spun into thread. It has a long history of garment usage in China; it is believed that farmers in Ancient China wore clothing made of ramie.
Ramie has a natural sheen and is stiffer than linen. When blended together, the appearance has a natural slub like linen, but drapes more like a light canvas rather than the characteristic rumple of linen. When blended with cotton, you get a fabric that is beautiful, distinctive, and takes color beautifully.
And to that point, the colors are unsurpassed.
A vibrant melange of AW18 shirting and dresses.
Our cotton-ramie-linen tuxedo shirt in deep blue. This style is also available in citrine.
Our AW18 monk-collar shirt in citrine cotton-ramie-linen.
Cuff detail of our monk collar shirt in citrine. Also available in deep blue.
Tunic duster dress in sandstone. We also made a sharp-looking tie-front shirt in sandstone.
All of our cotton-linen-ramie pieces are paired with natural corozo buttons, which are made from nut shells! Our button dealer tells us the nuts fell of their own accord and were not prematurely harvested.  ¯\_(ツ)_/¯
Wool is such a core part of a fall-winter wardrobe, but we wanted to be sure that we incorporated this fiber in a way that felt true to our approach. Luckily, we were able to acquire a limited edition linen-wool blend from Japan that is both soft and strong, and lightweight and warm. 
The colors of our limited edition wool-linen blend from Japan. Starting from the top and going clockwise: moss green, slate grey, sumi black. 
Our Modern French Pullover in sumi black. Sumi black is brushed for additional softness. This item also comes in moss green. 
Our linen-wool shirt in moss green. The moss green has more of a military feel, but more refined. Also available in sumi black. Our bestselling jacket shirt is also back for AW18 in both moss green and sumi black.
We've also extended the silhouette of our favorite single-pleat pant to make it longer for the autumn months. This elevated yet wearable trouser comes in a beautifully flecked slate-grey wool-linen fabric, as well as the soft, brushed sumi black.
Lastly, the Belgian mill we work with also delivered an incredibly stunning 19 oz 100% linen canvas that we just died over. This canvas became the inspiration for our first blazer; a slightly-cropped, highly versatile piece with a collar that can be buttoned up and varsity-style pockets for keeping your mittens warm. This style is fully-lined with a undyed linen and keeps the wind off your back beautifully. 
We've been wearing these pieces since we debuted our AW18 line to store buyers in January 2018, and can attest to the hardiness and comfort of these beautiful fabrics! We're so excited to finally release these fabrics and styles to you and hope you'll enjoy wearing them too! 
Our varsity-pocket blazer in greenstone, as seen on Jayro on the right. Maryse is wearing the new French dress in marble green cotton-ramie-linen, and the jacket shirt in moss green wool-linen.
Maryse wears the varsity-style blazer and the long pant in sumi black. Maryse is 5'11", which is why the long pant doesn't look quite so long on her! She is wearing extra-small throughout, while Jayro wears medium throughout. Both are wearing Sabah shoes.