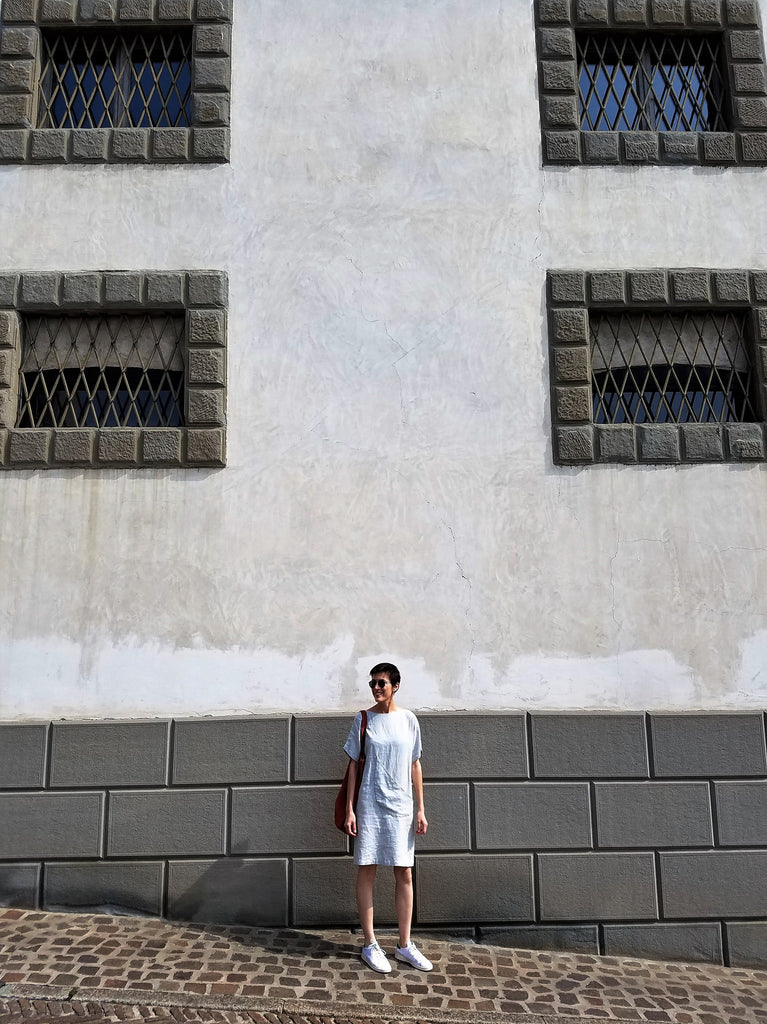 My American literary hero Henry James passed through Italy many times and wrote often about the wonders of this country. In a letter to a friend in 1907 he extols that "Italy is the most beautiful country in the world - of a beauty (and an interest and complexity of beauty) so far beyond any other that none other is worth talking about." These reports of Italy's grandeur had always read to me as hyperbole, but on our recent trip to Northern Italy I found that this country
exactly lived up to the hype. A century later the beauty of Italy is still arresting, the countryside is still captivating, and the art is still unrivaled...and of course there is gelato (this ridiculous frozen delight was from Gelateria La Romana in Brescia).
One of our goals for this trip was to test the travel-readiness of our clothing, especially our new men's shirts. The temperatures were hot and the days were long, but our linen was perfect for keeping us cool and stylish. In the past we've often compromised on personal style when we travel, but with these new shirts and our staples no.1 collection we didn't have to.
Our itinerary took us from Milan to Bergamo to Brescia and Sulzano. We were there to see Italian linen production (which has been centered around the Lombardy region for centuries), and also to visit Christo's most recent art installation the Floating Piers of Lake Iseo. Images from both will appear in future blog posts, but in the meantime here are some shots of our blluemade favorites helping us move effortlessly through the Italian streets.
MILAN
In Milan we visited art and fashion meccas. In the first picture you can see Lilly just barely peeking through the rooftop garden at the fashion boutique 10 Corso Como. You can also see the fascinating mix of old and new architecture in the Milan skyline. We also visited the Prada Foundation
, a contemporary art space founded by Miuccia Prada and designed by Rem Koolhaus. Lilly stands in front of a gold leaf tower at the museum. The campus was extraordinary, and the cafe/bar designed by Wes Anderson was a treat as well with immaculate desserts. In these images Lilly is wearing our indigo dress and carrying our linen mail tote. These bags were perfect day packs for us both. 
BERGAMO
We soon decamped for the smaller city of Bergamo. The center of Bergamo is a walled medieval town filled with scenic cobbled roads punctuated by vistas of the surrounding valleys. While in Bergamo we explored Gothic churches and ventured into the orchards that cover this region. Unlike Southern Italy the cuisine near Bergamo tends towards the use of butter instead of olive oil, and polenta over pasta. A real highlight was a meal of polenta and baby octopus at Da Vittorio outside Bergamo. In these images I am wearing our black short-sleeve shirt and tin long-sleeved club collar shirt while Lilly sports our modern slouch pant and crescent pocket dress. 
BRESCIA
Our path then took us to Brescia which has been a hub of industry since Roman times. In the 18th and 19th century it was especially known for its linen weaving. Although it is not on the normal tourist routes we found it a fascinating city with a ton of history, ancient ruins and Mussolini era architecture. We also found amazing food at simple bars like these basil dumplings in brown butter at Osteria al Bianchi. Lilly is wearing our soft pocket dress and our modern smock shirt and pant set. 
SULZANO
The climax of our trip was to our visit the small town of Sulzano on the shores of Lake Iseo. Here the artist Christo had installed his most recent project the Floating Piers. We will do an individual blog post on this art work soon, but you can already get a glimpse of the natural beauty of the lake and the vivid color of the piers. I am wearing our white club collar shirt and Lilly continues to rock our indigo dress. It was a terrific way to round out our trip of beauty, art and linen. 
-- Alex
Shop our travel favorites in our online store.