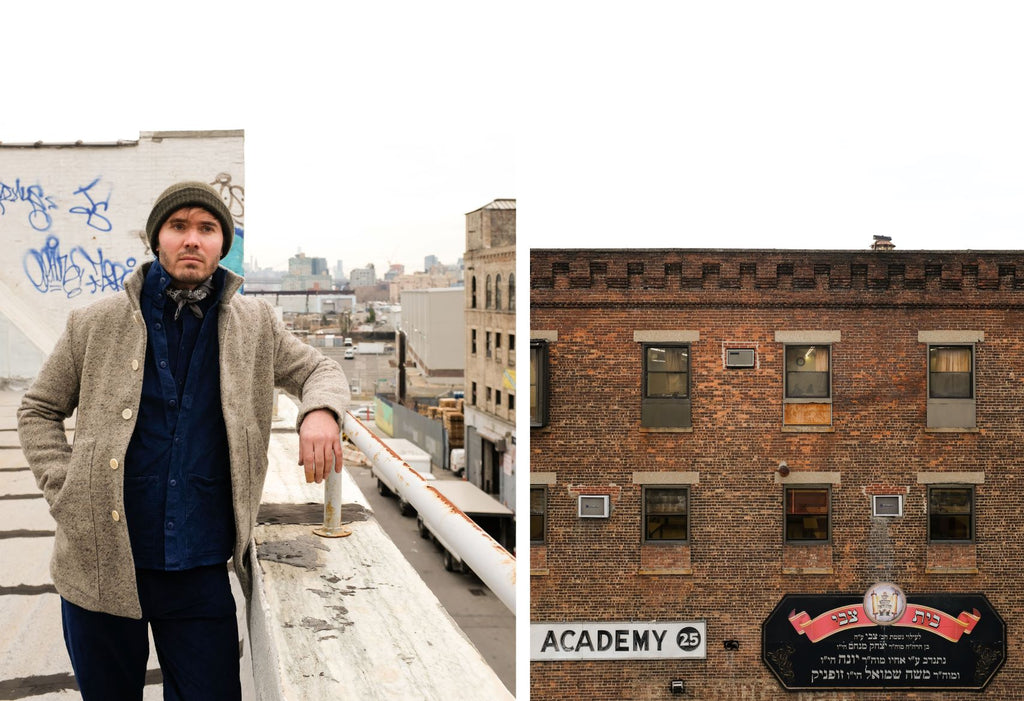 *All editorial images by Blluemade, featuring the car coat in Belgian tweed, jacket shirt in indigo corduroy and khaki wool-linen, the baseball pant in indigo corduroy, the sailor pant in artichoke canvas, and the silk-linen bandana. 
Image by Charlie Schuck for Sight Unseen Offsite/Hotel Tonight. 
Images by Daniel Cochran.
Image by Samuel Sachs Morgan. 
We've long been fans of Steven Bukowski's design work, which you can see around New York City in hot spots like Flora Bar at the Met Breuer, and all the best shows during Design Month (You may also remember him from interviews we've done with his wife, designer and artist Hannah Bigeleisen). His inventive yet streamlined approach to design and Memphis-meets-Modern aesthetic constantly inspires us, and we feel lucky to live with a few of his incredible designs. With inspirations ranging from Ettore Sottsass to Stanley Kubrick's "2001: A Space Odyssey," the spaces and items Steven designs are beautifully imaginative while also being enticingly livable. Delightful, inspiring, comfortable... these are tenets we strive for ourselves so it's no wonder we find inspiration and kinship in Steven's work. We were able to convince Steven to take a turn in front of the camera in some of our favorite pieces from AW19 and to interview him on his work. Read on to learn more about Steven, his design background, collaboration in a relationship, and his first big break! 
-----
Name:
-- Steven Bukowski
Occupation:
-- Designer
Where are you from?
-- I was born in Buffalo, New York and grew up in the surrounding suburbs.
What are you listening to these days?
-- Lately I've been listening to some new releases by long time favorites Thee Oh Sees and Sunn O))), along with plenty of classical and jazz on the usual rotation. I've also dug into a few bands I used to listen to a lot back in college, whose music still holds up, such as Deerhoof, Hella, Don Caballero, The Yeah Yeah Yeahs. All great studio music that gets me in a groove.
Tell us about your path. When did you know you want to be a designer? Did you go to school for design initially? What brought you to New York, and were there any twists and turns on your way to being a NY-based designer that might surprise people?
-- I think I more or less knew from childhood I wanted to be a designer. At an early age I was fascinated with how things worked and would often take my toys apart to see for myself. Many of the people in my extended family have backgrounds in either engineering or fabrication, so I suppose I'm holding the torch in a way. I was initially interested in pursuing architecture or culinary training, but I settled on industrial design because the scale of it felt much more relatable.
I graduated from the Cleveland Institute of Art during the middle of the recession. Having visited NYC many times during school, I felt confident that New York was really the only option since there wasn't much else happening in Ohio or back home. It was the only place I knew I could get around without having to own a car and have such easy access to a vast and rich amount of culture and opportunity.
Was there an event or commission that felt like your first big break?
-- I believe it was when I was asked to design the bar seating for Cafe Altro Paradiso by the Matter House restaurant group. This led to designing the bar seating for their sister restaurant, Flora Bar at the Met Breuer, along with many other smaller service items for both restaurants. This all happened within the first few months of launching my business, as a fresh solo entrepreneur, and was an incredible kick starter to this venture.
From one husband-and-wife team to another, how do you balance a romantic-work partnership? How did you and Hannah decide to start working together, and what have been the surprises of collaborating? (Hannah answered this question too!
-- When Hannah and I first collaborated I was surprised at how it worked so well, but in hind-sight it makes total sense. I think it works for us because it's such a casual arrangement most of the time. We've always had a dialogue about our own work with one another, and more recently the ideas have begun to overlap in places. Where this happens it usually leads to something exciting.
It's also important that we each have our own separate practices, clients, passion projects, etc. It feels more balanced that way, so we can each pursue individual interests and work together it makes sense or there's some sort of synergy. It shouldn't feel forced in any way.
Your work is all over the city in some fantastic restaurants. What do you like about doing those commissions, and are they ever collaborative?
-- Often times it is collaborative, because of course we need the finished item to feel like a part of the space or work within the space in a certain way. What I enjoy most is the sense of accomplishment afterwards, that my clients are helped to provide their customers better service, comfort, and an overall beautiful experience. 
Where do you go for inspiration or to feel inspired? 
-- Being in nature or riding my bicycle outside of the city are two favorites places to be, though not always possible with a crazy schedule in the city. In the city, I prefer spending time at home cooking, reading, playing chess (I just recently began! Really enjoying it), or taking some time at the Met. Also spending time with my studio mate Asa Pingree and visiting the studios of other pals such as Kyle Mosholder of d'emploi, Thomas Callahan of Horse Cycles, and you guys of course!
What do you look for in clothing, and how does it factor into your day?
-- Clothes must be durable, functional, and versatile. Cotton canvas and breathable linen are my go-tos basically year round. And lightweight wools that can be layered in the cooler months. I also prefer trousers over jeans for the fact that pockets are more easily accessed for pencils or other small tools. 
What's your next trip?
-- We're likely heading back to Mexico City early next year to dig deeper into the design scene. There's a lot of amazing things happening down there, such as La Laguna. It's basically CDMX's version of Industry City, a hub of creative practices which span a variety of disciplines. Excited to meet more people and see what opportunities there may be. Thailand might also be in the cards, again to check out the burgeoning design scene with some pals.
How do you pack for travel?
-- I typically try to pack as light and flexible as possible, no checked baggage, and stick with natural fabrics. It's easy to wash them in the shower if there isn't immediate access to laundry facilities. Also layers are super important when you're traveling to somewhere that has a range temperature changes throughout the day and evening. Basically anything Blluemade, haha.
What's next for you, work-wise?
-- To keep designing and collaborating with a variety of designers, artists, companies, etc. Anyone really, who has an interesting perspective, and a similar synergy.
I've got a new chair that is being launched next spring with New Works, a Copenhagen-based furniture company. I'm also launching a small tray with Bi-Rite Studio, based in Greenpoint, Brooklyn this fall which we're very excited for.
Links: